Jurassic World: Dominion Dominates Fandom Wikis - The Loop
Play Sound
Azumanga Daioh: The Animation

Japanese Logo

Original manga

Executive producers

Tatsuo Sato
Taro Maki
Toshimichi Otsuki

Series supervisor

Character designer

Yasuhisa Kato

Chief animation director

Takashi Wada

Art Director

Chikako Shibata

Editor

Shigeru Nishiyama

Music

Director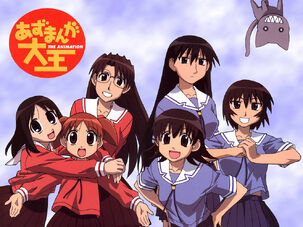 Azumanga Daioh: The Animation is the anime adaptation of Azumanga Daioh. Produced by J.C.Staff, it aired from April 8, 2002 until September 30, 2002 on TV Tokyo in five-minute segments every weekday. It was later repeated as a 25-minute compilation collected in 26 episodes. Every episode ends with a preview of the next one, and the characters commenting on it, thus breaking the fourth wall. The compilation episodes included the opening and closing themes – "Soramimi Cake" (空耳ケーキ Cake of Mishearing) being the opening and "Raspberry Heaven" being the closing song, both performed by Oranges & Lemons. The compilation episodes were released on 6 DVDs in 2003 and 9 Universal Media Discs between 2005 and 2006 by Starchild Records, and a DVD box set of all episodes was released on June 24, 2009; the five-minute segments can be distinguished by their individual titles.
Other anime adaptations besides this one include Azumanga Daioh: The Very Short Movie and Azumanga Web Daioh. Both of these were released before the premiere of the animated series.
In the United States, the anime television series was released in six DVDs on September 9, 2005, and then later in a five DVD volume "Thinpak" set, both by ADV Films. In the English dub, the English class and English-speaking foreigners are changed to Spanish (and a few other languages) in order to adjust the jokes to English speaking audiences. In 2009, Nokia offered the first five episodes of Azumanga Daioh on its Ovi phone service. Madman Entertainment licensed the series for release in Australia and New Zealand. As of September 1, 2009, all of ADV's former catalog are transferred to AEsir Holdings, with distribution from Section23 Films. The series was later re-licensed in 2016 by Sentai Filmworks.
Manga to Anime Differences
Main article: Azumanga Daioh: The Animation/Differences from the Manga
While the manga and anime follow the same storyline, the events do not entirely happen in chronological order. Upon the insistence of Kiyohiko Azuma, the anime was not released simultaneously with the manga, and thus the episodes are drawn in a style more similar to the later volumes of the manga than the early ones. Also, some early events from the manga are moved to late episodes of the anime, and the other way around. An example is Osaka getting hiccups which happened in the second volume of the manga, but in the second episode of the anime. Sakaki also claims in the anime that she has never been on an airplane, but in the manga she is one of the three people who have. Some stories from the manga are also cut entirely from the anime, and the existing ones are often prolonged. Other notable differences include the drastically increased role of Kaorin for nearly every episode and some character design details, such as Osaka being shorter than both Kagura and Tomo instead of the same height as Kagura.
Filler
There is only one filler episode: Episode 19, which is not based on any manga events at all. However, more or less all of the episodes include parts that do not have any manga counterparts.
Voice acting
Japanese
Additional voices
English
Additional voices
Additional crew
Japanese
Atsushi Umezawa (Co-executive producer)
Shinichi Ikeda (Producer)
Nobuhiro Osawa (Producer)
Yuji Matsukura (Producer)
Mayumi Tanahashi (Colour key stylist)
Masaru Takase (Cinematographer)
Yota Tsuruoka (Sound director)
Eiko Morikawa (Sound effects)
Kuri-Coder Pop Orchestra (Music performers)
TV Tokyo Music (Music cooperators)
GENCO (Series producer)
Hiroshi Matsuda (Episode director)
Isao Takayama (Episode director)
Jun Takahashi (Episode director)
Kenichiro Watanabe (Episode director)
Kiyotaka Ohata (Episode director)
Koji Masunari (Episode director)
Kouichi Takada (Episode director)
Makiko Date (Episode director)
Makoto Nagao (Episode director)
Setsugorou Tobari (Episode director
Tadashi Iino (Episode director)
Yayoi Minazuki (Episode director)
Yuki Miyoshi (Episode director)
Ichiro Okouchi (Script writer)
Tomoyasu Okubo (Script writer)
Aya Yoshinaga (Script writer)
Tsuyoshi Tamai (Script writer)
Hajime Satsuki (Script writer)
Tatsuo Sato (Storyboard artist)
Kakeru Watanabe (Storyboard artist)
Hiroaki Sakurai (Storyboard artist)
Toru Takahashi (Storyboard artist/episode director)
Yayoi Minazuki (Storyboard artist)
Hideki Tachibana (Storyboard artist)
Ranta Ushio (Storyboard artist)
Kazuhiro Sasaki (Storyboard artist)
Kiyotaka Ohata (Storyboard artist)
Yoshinobu Yamakawai (Storyboard artist)
Makoto Bessho (Storyboard artist)
Higashi Suehiro (Storyboard artist/episode director)
Lantis (Music producer)
Azumanga Daioh Production Committee (Producer of series)
Toru Iwakami (International coordinator)
Shoko Ono (Project translator)
Opening animation
Kiyotaka Ohata (Storyboards director)
Yasuhisa Kato (Animation director)
Kazuhiro Orimichi (Key animator)
Shuji Sakamoto (Key animator)
Hideki Hashimoto (Key animator)
Yumi Kato (Key animator)
Tadashi Shida (Key animator)
Yasunari Nitta (Key animator)
Hisashi Saito (Key animator)
Noboru Sanehara (Key animator)
Ending animation
Hiroshi Nishikiori (Storyboards director)
Yasuhisa Kato (Animation director)
Kunihiro Abe (Key animator)
Michio Fukuda (Key animator)
Shinya Hasegawa (Key animator)
Yoshiki Yamakawa (Key animator)
Hidenori Fukuoka (Key animator)
English
John Ledford (Executive producer)
Mark Williams (Executive producer)
Don Rush (Producer/Director)
Sandra Krasa (Director)
Mike Yantosca (ADR script)
Sean Broesti (Subtitle script and timing)
Industrial Smoke & Mirrors (English ADR recording studio)
Cesar Inserny (Sound design and mix)
Afshar Kharat (Recording engineer)
Jacob A. Gragard (Recording engineer)
Stanley Thomas (Recording engineer)
Henry Rogers (Recording engineer)
Michael Bubba Callahan (Recording engineer)
Monkey Boy Post (Post production)
Shelly Thomas (Post production manager)
Patrick Givens (Editor)
Neil O'Sullivan (Editor)
Marta Bechtol (Production assistant)
Miyuki Kamiya (Production assistant)
Robert Marchand (Production assistant)
Maki Nagano (Production assistant)
Carole Pavlik (Production assistant)
Reception
The anime was positively received and spawned a lot of related merchandise, such as plushies and costumes. Many CDs featuring the soundtrack of the TV series, as well as character songs, were also released. Reviewers though that the show would cause former high schoolers to become nostalgic. The English dub for the show was mostly well received, earning six ADR Awards from fans voting on AnimeonDVD.com and Dubreview.com. However, there were fans who were less enthusiastic about the dub, calling it, among other things, "cheesy" and "ear-bleedingly bad".
External links