Fairyland Class / Man of Character / Go with Enthusiasm! / The Mascot / Enemy?
(Japanese:
「おとぎの組」 「人格者」 「のりのりゴー!」 「マスコット」 「敵?」
) is the seventh episode of
Azumanga Daioh
.
Plot
Chiyo
, in her capacity as class president, asks the class what they want to do for the upcoming cultural festival.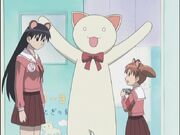 Yukari
says that conventional and orthodox ways mark the death of intellect, and Chiyo comes up with a suggestion box. A stuffed animal exhibition is drawn from the suggestion box.
Kimura
attempts to give his own suggestion but is silenced by
Tomo
. Chiyo introduces her dog,
Mr. Tadakichi
, to
Sakaki
, who becomes content when she pets him and is awed to see that Chiyo can ride him. On the day of the arrival of the cultural festival, Tomo wears a cat suit and runs around the school in it to advertise the exhibition. Throughout the day, Sakaki helps students buy stuffed toys from the exhibition. After the cultural festival, Yukari's class celebrate on their huge success.
Adapted From
Referbacks
Trivia
Characters
Cultural References
Unanswered Questions
Memorable Moments
Quotes

No, no! Going with the standard and orthodox is the death of intellect, Chiyo! Why not try something out of the ordinary? For example, you could … ummmmm … hmm. [long pause] A café is a great idea!

— Yukari (when the only suggestions for the festival were a café or a haunted house)

WAIT, PLEASE, WAIT A MINUTE!! IF YOU COULD JUST – JUST LISTEN TO ME FOR ONE MINUTE, I THINK I CAN … AAHHH!!!

— Kimura (after he is told his ideas for the exhibit are unwelcome)

Of course! Tadakichi-san is a man of character, so he never gets angry!

— Chiyo (when Sakaki asked if she could pet her dog)

Oh! Well, actually I can!

— Chiyo (when Sakaki said you could almost ride Tadakichi-san)

Well, it's not like it's bad or anything, but I just don't think you're wearing it that well.

— Tomo (to Osaka, on the big cat costume)

Please, talk to your girls, Kurosawa-sensei. I mean, don't you find it rather odd? This is the swim team's booth and no one's in a swimsuit!

— Kimura

I wish you happiness …

— Sakaki (when one of her stuffed animals was bought)

DO NOT BE A SLAVE TO YOUR PAST!! YOU MUST LIVE IN THE HERE, THE NOW, THIS MOMENT!!!

— Yukari (to Nyamo)

Good job people!! Yes, great work everyone!! Now, let's take … these stuffed animals … and burn them all!!

— Yukari (to her class)