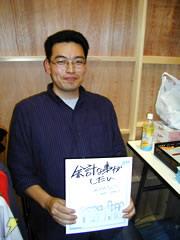 Kiyohiko Azuma
(born May 27, 1968 in
Takasago
) is a Japanese manga writer and illustrator. He is famous for writing the manga series
Azumanga Daioh
, serialized from 1999 to 2002 on the
Monthly Comic Dengeki Daioh
magazine. His current series is
Yotsuba&!
, also serialized in
Dengeki Daioh
. In his manga he writes under the hiragana form of his name, which has led some non-Japanese-speakers to confuse him for a woman (as they have mistaken the masculine ending -hiko for the feminine -ko).
Azuma's style of art is easily recognizable, having distinguished itself from common shojo and shonen art styles in the 1990s.
In his younger days Azuma would write doujinshi and hentai manga under the pen names Jōji Jonokuchi and A-ZONE. His doujinshi manga was based on such franchises as Neon Genesis Evangelion, Sailor Moon, Tenchi Muyo!, Battle Athletes Victory and Dragon Ball. They were often parodies. He also designed the characters from the anime Magical Play, which was webcast from 2001 to 2002.
The "Azumanga" in Azumanga Daioh comes from the author's last name, Azuma.
He is a graduate from Kobe Design University and Hyōgo Prefectural Kakogawa East High School in Kakogawa.
Works
Manga
Azumanga Daioh (1999-2002, Comic Dengeki Daioh, Media Works)
Bishoujo Senshi Sailormoon dj - A-Zone (1993) (doujinshi)
Inma no Ranbu (1997) (hentai)
Neon Genesis Evangelion dj - Ayanami's Fans (doujinshi)
Private Tutor Nami (1997) (hentai)
Try! Try! Try! (1998)
Wallaby (1998-2000, Game-jin, Media Works)
Yotsuba&! (2003-ongoing, Comic Dengeki Daioh, Media Works)
Anthologies
Character designs
Hikaru's Exchange (ひかるEXCHANGE Hikaru Exchange) (video game, for adults)
Mai Maino (舞野舞), a character from Queen of Duelists: Sidestory α+ (クイーン・オブ・デュエリスト外伝α+ Kuīn obu Dyuerisuto Gaiden α+) (video game, for adults, 1994) *debut
Magical Play (2001–2002 anime)
MILLION FEVER (1994 video game)
Illustrations
Aquarian Age TCG
Leaf Fight TCG (as one of main painters)
External links
Community content is available under
CC-BY-SA
unless otherwise noted.